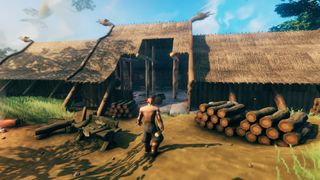 As Viking endurance game Valheim edges toward its fourth month of delivery, during which it's amassed a dumbfounding 7 million players, fans are as yet pausing (generally quietly!) for its first significant update. Hearth and Home, as it's approached the Valheim guide, will "center around the house building part of the game, with additional structure pieces and stuff to do in and around the house," Iron Gate Studios has said.
We got a little look at the Hearth and Home update a month ago as a picture of a wooden raven, and today the engineers uncovered, some way or another, a much teensier look.
Two pictures, minuscule bits of two screen captures, indicate something new coming in Valheim's first significant update. What these picture sections show is as of now being guessed on in the game's occupied and inquisitive subreddit and we have our own hypotheses too. Here are the pictures Iron Gate posted. Plan to squint.
The principal picture shows what resembles the boots of a Viking, perhaps situated on a seat which may (or may not) be the Raven Throne effectively in the game. Or then again, as some hypothesize, it very well may be the lower part of a protection stand, which would be a pleasant method to show your unused shield sets around the house. Or on the other hand perhaps it's simply showing us some new boots (in fact some new tights, since boots are definitely not a different covering thing).
What's more, in the upper left-hand corner of the picture, there's something that could be, all things considered, we don't have the foggiest idea what. Potatoes? Gold coins or gold chunks? Chunks of earth? It's troublesome, if certainly feasible, to say. Any of those could be important for the Hearth and Home update: gold for plating or creating decorations, potatoes for cooking, dirt for making blocks in the oven to work with.
Concerning the subsequent picture, it would appear that a channel dove in the earth, and at the base… water? Perhaps running water is being added, and Vikings will have appropriate water system for cultivating—if the cultivating framework is getting a few changes too. Another territory framework was as of late added, alongside a scraper buff (and a cultivator nerf), so new water material science could be a chance.
Or on the other hand maybe it's tar, as Tar Pits have been referenced as something that might be remembered for what's to come. Tar could likewise be utilized for building upgrades, such as waterproofing wood, which would be pleasant for outside structures that get twisted and debased when they get wet.
There are some little irregularities appeared in the channel also, which could be the gold pieces, or the dirt, or something different altogether. "This last picture will be a quite large piece of the update, with numerous new things identifying with it, would you be able to think about what it is?" the devs inquire.
Speculating is everything we can accomplish for the present. My own bet is on mud as another asset that can be uncovered close to water, and new structure things like blocks can be produced using it. With respect to the boots picture, I'll put cash on a type of shield stand. However, I truly don't have the foggiest idea.
Vexing! Furthermore, seems like we actually may have some time to stand by before we discover. "Rather than hurrying it, we need to allow it to require some investment it needs to get in an express that we're content with," the engineer update says.
Meanwhile, in any event, you can engage yourself by cruising all over in Valheim, since one astute modder added a genuine vehicle to the game.
Denial of responsibility! - Theinfobytes is an automatic aggregator of the all world's media. In each content, the hyperlink to the primary source is specified. All trademarks belong to their rightful owners, all materials to their authors. If you are the owner of the content and do not want us to publish your materials, please contact us by email – theinfobytes1@gmail.com. The content will be deleted within 24 hours.