Before The Witcher Season 3 even premiered, it seemed that the news cycle around the series wasn't about to do it any favors. Along with the shocking announcement that Henry Cavill would be leaving the show after three seasons playing Geralt of Rivia came the reveal that Liam Hemsworth would be stepping into the role of the White Wolf. Given that the casting switch dropped less than two months out from the latest season wrapping production, it remained unclear whether the show would even address the change until its planned fourth season. Meanwhile, the anticipation for Season 3 adopted a bittersweet tenor with the knowledge that it would also be Cavill's last — but fans can rest assured that although this is the actor's finale as Geralt, he's also departing the series on a particularly high note.
Season 3 of 'The Witcher' Gives Us More Found Family Than Ever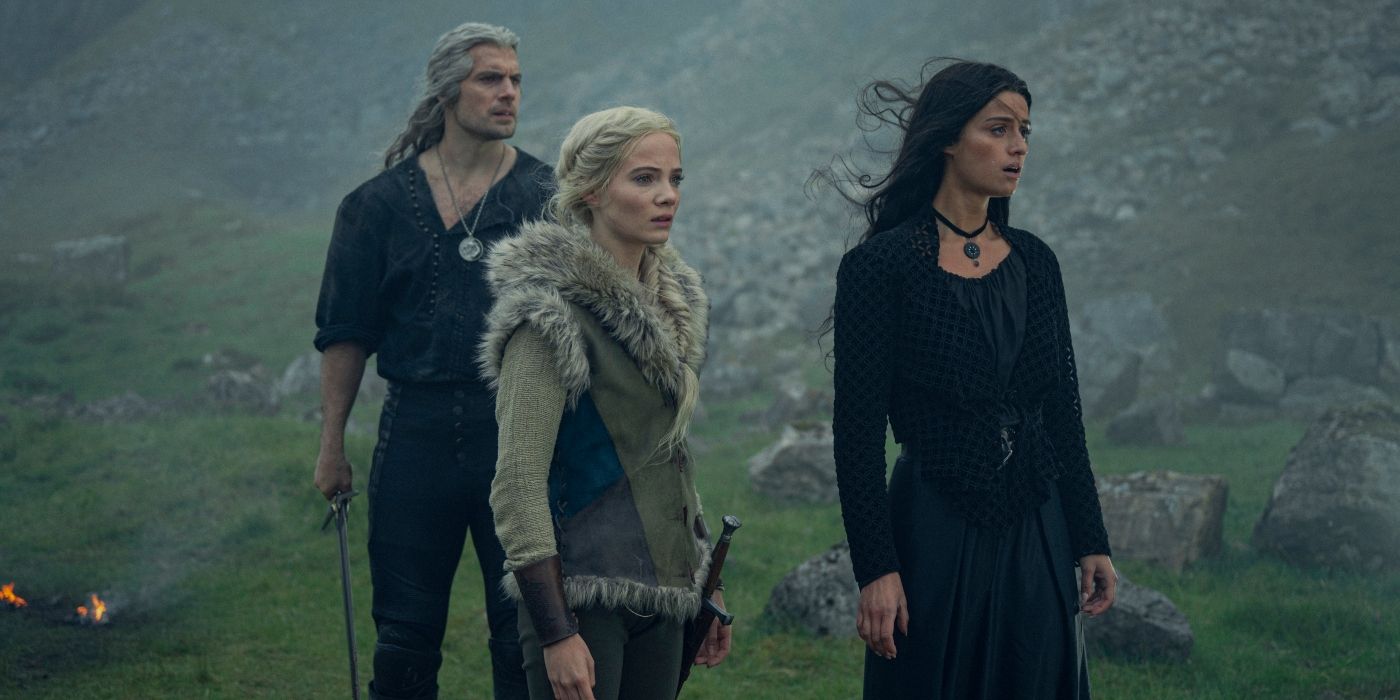 Although Geralt, Ciri, and Yennefer are continually trying to stay one step ahead of their foes, the conceit that forces them all into closer proximity with one another also provides an intimate opportunity for reconciliation — especially where Geralt and Yennefer are concerned. While Geralt is determined to maintain his distance from the sorceress, both physically and emotionally, that doesn't stop Yennefer from extending the occasional olive branch between them. In the end, what seems to bridge their divide the most is Ciri herself, the "something more" that was needed as was teased at the end of Season 2, and with that committed purpose now established the couple might even have the chance to rekindle their romance as well. Geralt and Yennefer have a shared goal of teaching Ciri to defend herself if they're ever not there to protect her, but the underlying theme this season hammers home is the message that this group is stronger when they're together.
While last season was all about establishing the bond between Geralt and Ciri, Season 3 brings the dynamic between mother and daughter to the forefront, as Yennefer not only finds herself in a position to help Ciri hone her power but also to impart some important lessons on someone who is becoming much more than a mentee. Yennefer might also be the authority figure in the relationship, but Ciri's fiery disposition means that she's more than willing to go toe-to-toe with the sorceress, which results in a difficult albeit necessary conversation between the two women that leaves them both on more solid ground than ever. Chalotra and Allan wholeheartedly bring the weight necessary to these scenes, as Yennefer discovers that she can still be a mother to someone even if it isn't how she originally hoped or planned for while Ciri begins to think of the sorceress as someone to look to when she needs help — just like she already does with Geralt. Allan, especially, carries one Season 3 episode entirely on her shoulders, ensuring that the future of this series rests with her character in particular.

Naturally, the evolving family unit wouldn't be complete without Jaskier (Joey Batey) as well, and fans will be pleased to know that in the wake of the battle at Kaer Morhen, he might still be up to some of his old tricks — including his notorious ways as a seducer — but that doesn't mean he isn't right there in the thick of it when the swords start clashing, much to his chagrin. Although he gets in over his head during the occasional monster fight, Season 3 is where we start to see even more sides to the Sandpiper, from his willingness to be another supportive figure in Ciri's life, as the two share laughs and quieter moments in equal measure, to his embarking on a surprising new romance. It's clear that Jaskier is just as much a part of this family as everyone else, entrusted with Ciri's protection more than once as well as someone who lends support and tough love to Geralt himself — while also using the witcher's adventures to base more hit songs on, naturally.
It would be inaccurate to claim that The Witcher's central characters don't encounter tests and trials — but those seem to happen right when the main group is forced to split up for varying reasons. Although the plot motives for these breaks are understandable — Geralt is hellbent on tracking down the fire mage Rience (Sam Woolf) to ensure he no longer poses a threat, while Yennefer decides to take Ciri to Aretuza to continue her training — it means that the season suffers somewhat as a result. We've spent the past two seasons with these characters all separated from each other, sometimes in different timelines altogether, and it feels like we've only just managed to see these paths converge before the story demands they diverge yet again.
It also leads to the show leaning on the element of fantasy series fast-travel a little too heavily, one of the problems that dogged Game of Thrones in its final seasons. In the past, it might have taken characters the length of several episodes to go from one city to another, emphasizing how long the trip is. In Season 3, however, clearing the distance between certain locations is accomplished in mere minutes, which only ends up being a convenient narrative shortcut rather than anything that successfully raises tension. If we know that one character can reach another that swiftly and easily, it lessens the threat of danger that would otherwise exist if the show chose to lean on a longer passage of time. It may be that the season plot simply didn't have enough time to spare on this element, especially when it's gearing up to introduce several compelling enemies, but it makes the Continent seem a lot smaller than it actually is.
That said, the more expansive aspect of The Witcher's world in Season 3 comes in the form of more spywork and intrigue, which plays out distinctively in Redania — one of the last realms that have yet to fall to the invading kingdom of Nilfgaard. There, it's all about trying to stay one step ahead lest you find yourself on the business end of the chopping block, and no two characters encapsulate that strategy better than Redanian spymaster Dijkstra (Graham McTavish) and sorceress Philippa Eilhart (Cassie Clare). The two have a particularly complicated and magnetic relationship of their own that can't necessarily be described as a romance but is certainly rooted in a lot of trust and reliance, even as they can't say the same about any of the others they might be manipulating for their own ultimate goals. Chief among them is the Redanian prince, Radovid (Hugh Skinner), who doesn't present as much of a strategist or shrewd ally, especially when he inwardly desires honesty in a world where everyone is donning a different mask. Although Radovid might not have much of a stomach for deception, Skinner imbues the character with glimmers of an ability to sneak onto the throne, perhaps sooner rather than later.
Meanwhile, Yennefer's decision to take Ciri with her to Aretuza means that we have the opportunity to pick back up with the world of the mages — and it's a story choice that works to the series' benefit overall. Although Aretuza is home to just as many if not more political machinations than other places on the Continent, it also represents a place that Yennefer herself reluctantly returns to, and not just because she was put on the Brotherhood of Sorcerers' shitlist after choosing to free the Nilfgaardian commander Cahir (Eamon Farren) in Season 2. Her relationship with her former teacher Tissaia (MyAnna Buring) has seen significant throughout the course of the series, and now, with the two women on a more even footing, there's a greater opportunity for the intricacies of that friendship through all of its ups and downs, especially now that Tissaia understands how important Ciri is — not merely to Yennefer herself but to the future of the world. The main collective of sorceresses, which occasionally includes a reticent Philippa as well as the cheeky Sabrina (Therica Wilson-Read), self-confident Margarita (Margarita Laux-Antille), and defiant Keira (Safiyya Ingar), introduce a wildly entertaining variety of personality types into the mix, especially while the Brotherhood is on shakier ground than it ever has been. This is one girl gang you'd want to be a part of, even if some of their conflicting traits lead to these women butting heads over differences of opinion at times.
At the end of Season 2, we were confronted by the reveal that the mysterious White Flame (Bart Edwards) is none other than Ciri's real father. Although the series first introduced him to us as Duny, the now-Emperor of Nilfgaard goes by the name of Emhyr var Emreis, and out of everyone who wants to get their hands on Ciri, he might be the most insidious antagonist of all simply because he's linked to the girl by the most direct tether possible: blood. His plan for Ciri might not be an evil one — at least, not that we know of yet — in terms of his desire to have her rule beside him in Nilfgaard and assume her rightful place on the throne, but he represents an even greater threat to the Continent itself, as well as the very livelihood of the dwindling elven population. This means that Francesca (Mecia Simson) has some very difficult decisions to make in terms of who to ally herself with, but it also leads to a somewhat unlikely team-up between the leader of the elves and the sorceress who was once Nilfgaard's mage, Fringilla (Mimî M Khayisa), who seeks to earn her way back into the White Flame's good graces after being thrown into Emhyr's unforgiving prison cell last season. And it's not just Fringilla's loyalty that the emperor seeks to test — Cahir, as well, is forced to prove himself by particularly heartwrenching means, which allow Farren to embrace yet another side of the character we've never seen before.
As far as swan songs go, Season 3 of The Witcher is an unexpectedly exceptional one for Cavill's Geralt, as he's allowed to showcase his best fatherly side through a strengthening connection with Ciri as well as his capacity for vanquishing monsters, navigating political intrigue, and even a little romance too. (And he's not a bad dancer, to boot!) While it might be easier to feel sad or dismayed about his departure, this most recent season of the series serves as the pinnacle of his time on the series and as a testament to just how much the titular witcher has grown. It's a shame that Cavill won't be present to see the show through to its conclusion, but given what Season 3 of The Witcher establishes in terms of mounting conflict, rich character growth and relationships, and phenomenal performances, there's still plenty worth tuning in for into a fourth season and beyond.
Season 3 of The Witcher will be split into two parts, with Volume 1 premiering on Netflix on June 29, with Volume 2 coming to the streamer on July 27.
Denial of responsibility! - Theinfobytes is an automatic aggregator of the all world's media. In each content, the hyperlink to the primary source is specified. All trademarks belong to their rightful owners, all materials to their authors. If you are the owner of the content and do not want us to publish your materials, please contact us by email – theinfobytes1@gmail.com. The content will be deleted within 24 hours.